The NFL Draft is always an exciting time for prospects as they gear up for their lives to change forever. The unique aspect of every draft class is the NFL bloodlines that emerge. The 2021 edition is no different with several former players preparing to usher their sons into the league they used to call their own.
Patrick Surtain, Sr. and Patrick Surtain II

After a stellar career with the Alabama Crimson Tide, Patrick Surtain II will follow his father's footsteps into the NFL. Surtain II is expected to be one of the first defensive backs selected in the NFL Draft on Thursday. His success can be attributed to the influence of his father Patrick Surtain, Sr. who was a second-round pick in the 1998 NFL Draft.
During his time in the league, Surtain, Sr. was a three-time Pro Bowl cornerback for the Miami Dolphins, and earned First Team All-Pro honors in 2002. He spent seven seasons in Miami, logging 82 starts, before joining the Kansas City Chiefs in 2005, where he played his final seasons as a professional football player. Surtain, Sr. recorded 37 interceptions, eight forced fumbles, two touchdowns, and 547 tackles, while making the playoffs in five separate seasons throughout his career.
Life after football led Surtain, Sr. into coaching. The younger Surtain had the opportunity to play under his father during his final two years at American Heritage School in Plantation, Fla. There the two claimed back-to-back 5A state championships while recording a 27-game winning streak.
At Alabama, Surtain II played in 39 games during his three years in the program. He concluded his college career with 113 tackles, four interceptions, four forced fumbles, and 23 passes defended. He also received plenty of accolades in 2020 including Unanimous First Team All-American, SEC Defensive Player of the Year, and a National Championship.
Tee Martin and Amari Rodgers
Clemson wide receiver Amari Rodgers also had the pleasure of being groomed for the NFL by his father Tee Martin. Drafted 163rd overall in the 2000 NFL Draft, Martin spent four seasons as a quarterback with the Pittsburgh Steelers, Philadelphia Eagles, and Oakland Raiders before moving on to coaching. He is currently the Baltimore Ravens wide receivers coach.
Rodgers, who switched from running back to wide receiver in high school, is considered one of the top prospects in this year's Draft. His first few years at Clemson were lowkey due to a litany of options at the receiver position. However, he broke out in his senior campaign, emerging as a preferred target for quarterback Trevor Lawrence.
Rodgers finished the year leading the Tigers in receptions (77), receiving yards (1,020), and touchdown receptions (7). A strong showing at the Senior Bowl in Mobile, Alabama earlier this year also contributed to Rodgers moving up the Draft board.
Along the way, he always had his father in his corner. Whether it was watching film or offering advice, Martin did what he could to coach Rodgers up and prepare him for this moment. The hard work is paying off now that he has a chance to witness his son take the next step in his football journey.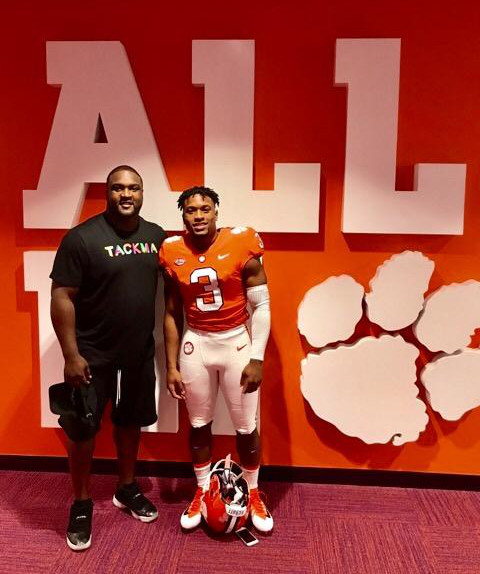 Asante Samuel and Asante Samuel, Jr.
Asante Samuel Jr., son of 11-year NFL veteran Asante Samuel, can become the fifth defensive back from Florida State selected in the first round since 2010. The elder Samuel played for the New England Patriots, Philadelphia Eagles, and Atlanta Falcons. He retired just eight years ago after securing two Super Bowl rings and four Pro Bowl selections as a cornerback. Samuel also finished his career with 51 interceptions, leading the NFL twice throughout his time in the league.
Samuel, Jr. is on track to be just as successful as his father. The younger Samuel led the Seminoles with nine pass breakups as a freshman despite starting just three of 12 games played (17 tackles, one for loss). He was a third-team All-ACC selection in 2019, leading the conference with 14 pass breakups along with 48 tackles and an interception in 12 starts.
Samuel started eight games in 2020, leading the squad in interceptions and pass breakups (31 tackles, three interceptions, six pass breakups) before opting out for the remainder of the season.
In a recent interview with TMZ Sports, Samuel said his son has the potential to be even better than him: "It's definitely possible. If he can go to the right team, right situation and get a little technique things knocked off, get it worked on a little bit — he definitely can rise up the ranks and have a great career."
Additional father/son connections:
South Carolina CB Jaycee Horn: Father, Joe, was a 12-year NFL veteran and four-time Pro Bowl selection.
Purdue DT Lorenzo Neal: Father, Lorenzo, was a 16-year NFL veteran, four-time Pro Bowler and member of the NFL 2000's All-Decade team.
Louisiana Monroe TE Josh Pederson: Father, Doug, was a 10-year NFL veteran and head coach for Philadelphia Eagles Super Bowl LII Championship team.
Stanford C Drew Dalman: Father, Chris, was a seven-year NFL veteran who won Super Bowl XXIX with the 49ers prior to coaching in the NFL.
Ohio State LB Tuf Borland: Father, Kyle, played LB for one season with the Rams.
Georgia Tech LB David Curry: Father, Buddy, was an eight-year NFL veteran and was named AP Defensive Rookie of the Year in 1980 with the Atlanta Falcons.
Alabama LS Thomas Fletcher: Father, Tom, played for the Seahawks & the Raiders.
West Virginia DT Darius Stills: Father, Gary, was a 10-year NFL veteran.