NFL players across the league will showcase the causes that are most important to them on the field through the My Cause, My Cleats initiative.
In its sixth consecutive season, players will wear custom-painted, cause-inspired cleats to raise awareness for various non-profit organizations and causes. It's also an opportunity for players to showcase their creativity.
Since its inception in 2016, this player-led campaign has provided a platform to bring causes to the forefront on gameday. This year's causes include topics such as tackling social injustice, supporting youth, addressing mental health, raising awareness for disability research, and empowering veterans.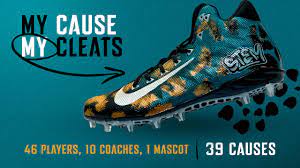 For this year's initiative, 17% of players selected cancer research causes, 16% selected causes related to social justice, while 14% of players will raise awareness for additional disease prevention.
Players worked with artists and cleat manufacturers to create their custom-designed cleats and will wear them during Week 13 games. NFL teams without a home game during Week 13 may also activate during Week 14 or 15. You can see all of the causes players are representing here.
"'My Cause My Cleats' allows players to shine a light on the causes they hold dear and the incredible work they do to help others year-round," said NFL COMMISSIONER ROGER GOODELL. "We are grateful and humbled by their commitment to make a difference and this program allows them to share their passions with the world."
Following Week 13 games, hundreds of players will donate their cleats by auctioning them on NFL Auction where 100% of funds raised will be donated to the charities they select. Fans may bid on these cleats at NFL.com/Auction.